(1705-1752)
Early Years
Michael Christian Festing was born in London on 29th November 1705. He was the son of John and Elizabeth Festing and it is possible that there were family connections with Gros Festin from Stralsund in Schleswig-Holstein, Germany.
Michael had a brother, John, who according to the musical historian Charles Burney, "played the oboe but taught the German flute".
Michael Festing's first musical training took the form of violin lessons from Richard Jones who was the leader of the Drury Lane Theatre Orchestra and later he received more advanced tuition from the composer Francesco Geminiani (1687-1762). Festing became a violin virtuoso.
1723
On 6th March 1723 Festing made his first public appearance when he played the violin at  Hickford's Room in London.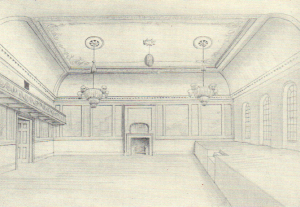 Hickford's Concert Room.  A drawing dated 1878.  The stage on the right was, at the time, a recent addition.
1727-1730
Festing played the violin in the King's Theatre Orchestra in the Haymarket, London in 1727 and at the York Buildings, Villiers Street near the Strand (London's first proper concert hall) in 1729.
A year later his first compositions were published: Twelve Solos for a Violin and Thorough Bass op.1.
It was about this time that Festing began giving violin lessons to Thomas Arne (1710-1778) and became a major influence on the young Arne's musical life.
1731
In 1731 William Smith of London published Festing's 'Twelve Sonatas in Three Parts'. They are dedicated to 'Her Grace Henrietta, Dutchess of Marlborough' and were subscribed to (i.e. ordered in advance of publication) by no less than 199 parties. These included the composers Maurice Greene, Bononcini and Pepusch, numerous music societies and clubs and representatives of Corpus-Christi and Wadham Colleges Oxford. Clearly this was no ordinary subscriber list and shows that Festing was held in high esteem by his musical colleagues.
1737
In 1737 Festing was appointed director of the Italian Opera orchestra in London. In the same year he became leader of the Philharmonic Society Orchestra, which met every Monday night in the Crown & Anchor Tavern in the City of London and also led the Swan & Castle Tavern music group.
1738
One day in 1738, Festing and two other musicians (Charles Weidemann and Thomas Vincent) were standing in the doorway of the Orange Coffee House in the Haymarket when they noticed two boys, obviously in a desperate state of poverty, driving some donkeys along the street. The three men recognised the children as being the sons of the Dutch oboe player Jean Kytch who had recently died.
Festing and his companions contacted Maurice Greene and other musicians to raise money for the children and to lay the foundation of a charity – "The Fund for the Support of Decayed Musicians and their Families", which later became known as the Royal Society of Musicians. Its main purpose was, and still is today, to relieve poverty of families of deceased musicians.
Burney states that, "Mr. Michael Christian Festing and Doctor Maurice Greene, took the lead at the time of instituting this Society, and for twelve or fourteen years afterwards".
1739
Beginning in 1739 and lasting until his death Festing directed the subscription concerts at Hickford's Room and later with Maurice Greene established the very successful Apollo Society at the Devil Tavern. Together with Boyce and Greene he wrote much music for these organisations.
1742
During the summer of 1742 the grand pleasure gardens at Ranelagh were opened to the public – at six o'clock in the evening on each Wednesday and Friday, with a 2s 6d (12½p) entrance fee which included tea and coffee. The Prime Minister, Horace Walpole (1676-1745), yielded to its charms and wrote that it, "has totally beat Vauxhall [Gardens]. Nobody goes anywhere else – everybody goes there. My Lord Chesterfield is so fond of it, that he says he has ordered all his letters to be directed thither. If you had never seen it, I would make you a most pompous description of it, and tell you how the floor is all of beaten princes – that you can't set foot without treading on a Prince of Wales or Duke of Cumberland. The company is universal; there is from his Grace of Grafton down to Children out of the Foundling Hospital – from my Lady Townshend to the kitten".
From its opening Festing was appointed as leader of the Band and director of music. He held these positions for the next ten years, during which time many of his own compositions (particularly vocal works) were played and became very popular.
His writings for violin are particularly noted for their excellent crafting and reflect his exceptional knowledge of string playing technique.
1752
Festing died on 24th July 1752, leaving a son, the Reverend Michael Festing (rector of Wyke Regis in Dorset) who married the only daughter of his friend Maurice Greene.
Festing left us a wealth of compositions including some twenty concertos in seven parts for strings, 18 trio sonatas for various instruments, 14 solos with figured bass, airs for recorders and numerous songs and cantatas.
The music critic John Potter in his 'Observations upon the Present State of Music' in 1762 wrote that Festing, "deserves praise and esteem as a composer of great merit".
The music historian John Hawkins said, "as a performer on the Violin Festing was inferior to many of his time, but as a composer, particularly of solos for that instrument, the nature and genius whereof he perfectly understood, he had but few equals".
Discography
YORK CD 103
This CD contains just six minutes of Festing's music – an arrangement for organ of his Violin Sonata in E major played by John Scott Whiteley.
NAIM CD 037
This CD contains one of Festing's violin sonatas.