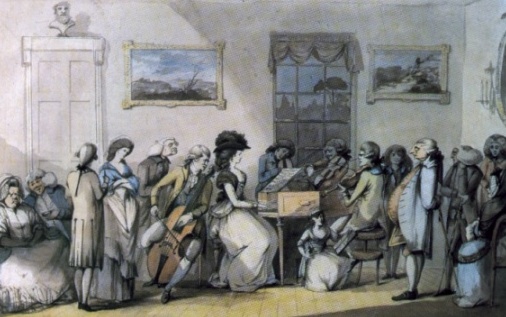 John Frederick Ranish was born in either 1692 or 1693.
In 1735, when he was in his early forties, his set of '8 Sonatas or Solos for German Flute with a thorough Bass' was published by Benjamin Cooke of Covent Garden. The relevant subscription list contains approximately 30 names that are associated with Cambridge Colleges, so it is presumed that he had lived and had developed a musical presence in that town for many years.
His second publication; a set of '12 Sonatas for German Flute with a thorough bass', appeared in 1744. Again, the subscription list shows a strong connection with Cambridge and with East Anglia in general.
Between the publication of the first and second sets, Ranish changed his publisher from the comparatively little known Benjamin Cooke to John Walsh of the Strand. Walsh was Handel's publisher and the leading music publisher in England at that time. He was well known as a shrewd businessman who presumably would never have published Ranish's work without there being an excellent chance of turning a good profit from the venture. It therefore seems fairly certain that Ranish had become a much more established musical figure and composer, with his musical talents possibly spreading from Cambridge to London.
Like most flute players of the time Ranish also played and taught the oboe.
Ranish appears, playing the oboe, in the engraving A Concert at Christ's College in June 1767 by Abraham Hume and also in the painting A Musical Party at Melton Constable Hall by J.T.Heins dated 1734.  In this painting Ranish is presumably one of the two gentlemen playing the flute, just to the left of the wall mirror.  To view this painting click here.
Melton Constable Hall was the home of Sir Jacob Astley to whom Ranish dedicated his first set of sonatas and who subscribed for 6 sets of his second set of sonatas. Peter Holman and Richard Maunder have suggested that the Melton Constable painting might represent a performance of one Michael Festing's Op.3 Concertos for 4 violins and 2 flutes.
Ranish died in March 1777. His obituary in the Cambridge Chronicle and Journal dated 15 March 1777, in a column headed 14 March, states: 'Yesterday died aged 84, Mr Ranish, many years an eminent teacher and performer on the German flute in this town. He always supported the character of a gentleman, and was respected by all that knew him'.