Beginnings
Johann Christian Bach (the 'London Bach') was born at St Thomas's Church School, Leipzig on Monday 5th September 1735, where his father, the great musical genius Johann Sebastian, was Cantor.  Johann Christian was the 18th child and 11th son of the then 51 year old composer and his 34 year old second wife Anna Magdalena (nee Wilken).
It is assumed that the young Bach received musical tuition from his father and also from his cousin Johann Elias Bach (1705-1755) who was living at this time at the school as private secretary to Johann Sebastian.
1749 (Age 14)
At the age of 14 Johann Christian took over the secretarial duties of cousin Johann Elias which included preparing musical manuscripts for his father.
Very few compositions have survived from the composer's early life in Leipzig
1750 (Age 15)
After the death of his father, the 15 year old Johann Christian moved to Berlin to be looked after and tutored by his half-brother Carl Philipp Emanuel.  It was while in Berlin that he performed some of his own works in public for the first time.
1755 (Age 20)
At the age of 20 the young Bach, accompanied by an Italian lady singer, travelled to Milan where he remained for seven years.  He stayed at the house of his patron, Count Agostino Litta, and took music lessons from Padre Martini in Bologna.  His first musical compositions in Milan were liturgical and were performed in churches in and around Milan.
1760 (Age 25)
About this time Bach became a Roman Catholic and in June 1760 was appointed as organist at Milan Cathedral.  He became increasingly interested in opera which culminated in his being commissioned to compose one for the Teatro Regio in Turin.  In response, Bach wrote Artaserse which was first performed on 26th December 1760.  Bach decided to drop his position as organist at the Cathedral in order to pursue opera.  He toured Italy while composing two more operas; Catone in Utica and Allessandra nell'Indie.  These were both performed in Naples.
1762 (Age 27)
Although he was also composing concertos, symphonies and cantatas, it was opera that he was mainly interested in and after the success of the early ones he was commissioned by the King's Theatre London to write two operas for their 1762-3 season.  The cathedral authorities allowed Bach a year of absence to visit London and kept his position open for his return.  Bach never did return; he made London his home and stayed for the rest of his life, becoming known ever since as the London Bach.
During his time in London he was to live well, stay at the some very prestigious addresses in Soho, Mayfair and Richmond, became well known to the Royal Family and enjoyed the company of many other eminent people including Abel, the painter Gainsborough and the musical historian Charles Burney.
1763 (Age 28)
Bach was at first disappointed at what he felt was the inferior standard of singing at the opera houses but was more than pleased in February 1763 by the reception of his first stage work; Orione.   In May of the same year Zanaida was performed to less enthusiastic audiences but about this time Bach was appointed music master to the Queen, a position that included teaching music to the Queen and her children, accompanying the King's flute playing and directing the Queen's band.
Bach's relationship with the King's Theatre was not always perfect.  Bach fell out with violinist Felice Giardini when he took over as manager for a two year period.  Bach did not produce a single opera for the King's Theatre during Giardini's period in charge.  Bach was invited to return to Naples, but declined, and travelled instead to Paris where his music earned him the right to publish his compositions there.  Later that year a similar privilege was granted to him in London.
1764 (Age 29)
Bach composed the opera Adriano in Siria which was performed at the King's Theatre on 26th January 1765 but it was not that well received.  Early in 1764 Bach started to share a house with his fellow compatriot Carl Friedrich Abel (1723-1787) who had been living in London since 1759.  Abel had studied with Johann Sebastian in Leipzig so the pair may have known one another for many years.  They began what was to become a famous musical collaboration known as the Bach-Abel concert series.  This started with a concert at the Great Room in Spring Gardens on 29 February 1764.
When Mozart visited London in 1764 he met with Bach.  Mozart was already a great admirer of his works and when Mozart left London in 1765 he took with him an autographed manuscript of one Bach's piano sonatas (later published as op.17 no.3).
1765 (Age 30)
The Bach-Abel partnership continued the following year with a subscription series of ten concerts held at Carlisle House, Soho Square followed by a series of 15 concerts the following year.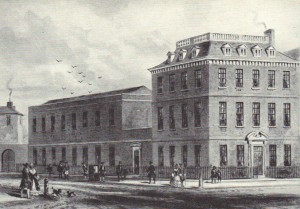 Carlisle House c.1764.  The concert room is the low building on the left.
The concert series transferred to Almack's Assembly Rooms, King Street, St. James's in 1766 and continued until 1774.  The music played was mainly by Bach and Abel and at their height were immensely popular and financially very rewarding for the two organisers.
1766 (Age 31)
When Bach's keyboard sonatas op.5 were published in 1766 they were the first published in London to state the option of the piano as well as the usual Harpsichord.  Charles Burney stated at the time, 'After the arrival of John Chr. Bach in this country, and the establishment of his concerts all the harpsichord makers tried their mechanical powers at piano-fortes'.
1768 (Age 33)
Bach performed at what was to be the first public concert using the piano.
Bach was now firmly established as a leading composer, musician and Teacher.
Many of his symphonies were performed regularly not just in London but in all the major European cities.
1770 (Age 35)
During the interval of a performance of Gioas re di Giuda at the King's Theatre, Bach played one of his organ concertos.  However, his playing was apparently hissed at and laughed upon by the audience and choir; the first sign that his age and health were lessoning his playing abilities.
1772 (Age 37)
After serenata Endimione was performed at the King's Theatre no more Bach works were performed there until 1778.  Bach spent some this time composing operas for performance abroad; mainly at Mannheim, Germany to which Bach travelled in 1772.
1774 (Age 39)
With the Italian dancer Giovanni Andrea Gallini, Bach and Abel purchased a property in Hanover Square and built a new concert hall in its garden, known as the Hanover Square Rooms.  The building was decorated in a lavish manner including many paintings by Thomas Gainsborough.
Unfortunately, this new venture was the beginning of the end of the Bach-Abel concert series and the costs proved a heavy burden to their financial resources.
The new concert hall saw many of Bach's latest works performed there, such as the cantatas Cefalo e Procri (1776) and Rinaldo ed Armida (1778) plus his last set of keyboard concertos, op.13 (1777).
1776 (Age 41)
Although hard evidence is not available, it is probable that in 1776 Bach married the Italian singer Cecilia Grassi.
1777 (Age 42)
Bach returned to the King's Theatre with a revised version of Orionein and then with his last, and some say finest, opera La clemenza di Scipione (first performed 4th April 1778).
1779 (Age 44)
Bach's last opera the tragédie lyrique Amadis de Gaule was performed in Paris.
1780 (Age 45)
Unfortunately the last few years of the composer's life were not happy ones.  The Bach-Abel concerts slowly went out of fashion and began to lose money.  Bach's health continued to deteriorate and one of his servants ran off with over £1,000 of his savings.  At the opera house his music was shunned for the likes of Sacchini and others.
1782 (Age 46)
Bach died on 1st January 1782 and was buried in a mass grave in St Pancras churchyard five days later.  Queen Charlotte helped his widow to repay some of his outstanding debt and assisted with the costs of her return to Italy.
Mozart, in a letter to his father, described Bach's death as 'a loss to the musical world'.